Skip-A-Pay
The Fully-Automated, Hassle-Free Skip Process
CUBUS Skip-A-Pay eliminates all the hassle associated with traditional "manual" loan skips by automating the skip payment process and reducing the entire processing time, typically anywhere from 15 to 45 minutes, to just a couple of minutes. The Skip-A-Pay platform easily integrates with your core banking system, giving you a cost-effective way to let your members and staff process a skip from anywhere in the world, 24/7.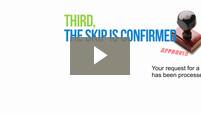 Watch a video tour about Skip-A-Pay
See how your credit union can benefit from CUBUS Skip-A-Pay by watching our brief video tour.
Case Study
Download Case Study
Redstone Federal Credit Union
Processed thousands of skips in less than half the time. Revitalized skip program
Download Case Study
Achieva Credit Union
Saved 2,560 staff hours. Increased non-interest income from skip fees
A Simple 3 Step Process
Skip-A-Pay simplifies the process into just 3 easy steps
1

Select the loan

2

Agree to terms and choose fee/payment options

3

The skip is confirmed
It's that simple
Powerful Loan Skip Features
Fully-automated process
Easy to use user-interface for members and staff
Sophisticated member eligibility criteria
Variety of fee options
Robust management tools
Seamless interface with core systems
The Benefits of Skip-A-Pay: Save Time, Maximize Profits
With Skip-A-Pay everybody wins, everybody benefits. Members get round-the-clock access to a simplified process that gives them anonymity and eliminates any potential embarrassment. Credit unions get a customizable program that allows staff to skip loans directly from their workstations. And, best of all, you'll potentially save hundreds of wasted staff hours while enjoying a new source of non-interest revenue from a program that's finally being used to its full potential.