Online Banking
Next generation online banking platform for credit unions
Online banking has taken over as the primary destination for most consumers to manage their money and is expected to grow to 83 million by 2014. Does your credit union offer an online banking experience that measures up to the expectations of this growing segment of your business?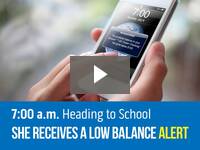 Watch a video tour about Online Banking
See how your credit union and your members can benefit from CUBUS Online Banking by watching our brief video tour.
This is true integration of online banking and the most commonly used functions in one view so members experience an intuitive, enhanced and seamless online session.
Supports both individual and business members
Full-featured internet banking account access including real-time balance and transaction information, check and statement images, online reporting, messaging and more
Best-in-class user experience and functionality including secure login and 128-bit SSL encryption, single sign on, friendly account names, customizable dashboard, multiple users, session summary related links and more
Easy secure money movement via online bill payment and presentment, and real-time future dated or recurring funds transfer
Full-Featured Online Banking Account Access
On-the-Fly Enrollment: Lets members enroll in online banking and other related services from your website
Secure Login and 128-bit SSL Encryption: Provides members with integrated, multi-factor authentication and secure access to your credit union
Single Sign-On: Delivers complete online financial services using one ID and password
End-to-End Account Origination: Allows web visitors to apply for, open and fund a bank account online
Business and Personal Banking: Supports both types of accounts, including positive pay for business banking
Best-in-Class User Experience
Web-enabled Dashboard: For ultimate ease of use and access
Friendly Account Names: Allows members to assign friendly names (nicknames) for their accounts
Multiple Users: Members can add multiple users who can view member-defined areas of an account
Quick Links: Allows the user to speed navigation to a particular page
Check and Statement Images: Permits access to electronic copies of presented checks and account statement images
Money Movement
Online Payment and Presentment: Enables members to manage and make payments via the internet while providing an audit trail of their payment history
Transfers: Enables real-time, future-dated or recurring fund transfers for controlled movement of funds within your credit union as well as outside financial institutions
Advanced Communication
Alerts: Provides instant notification of payment, balance, security and budget status updates to multiple user-defined destinations, including email and SMS
Comprehensive Administration
Real-Time Balance and Transaction Reporting: Provides real-time access and a complete view of current balances and transaction history across all account types
Session Summary: Provides a summary of a member's prior login session, enabling them to detect unauthorized activity while increasing their confidence in online banking security
Online Reporting: Allows members to create transaction history reports, search by multiple criteria and sort and filter transactions
Advanced Campaign Management: Empowers credit unions with real-time custom messaging targeting members based on transaction and core banking data